How to Watch Daily Wire on Firestick?
The Daily Wire, a powerhouse in the realm of news and entertainment, has carved a niche for itself by providing sharp, insightful, and engaging content that resonates with a broad audience. But as content consumption evolves, so do the platforms we use to access it. Enter the Firestick – a compact yet mighty streaming tool that has transformed our televisions into smart, interactive hubs. Its burgeoning popularity can be attributed to its user-friendly interface, affordability, and the vast array of streaming options it offers.
But why stop at mainstream entertainment? Imagine the convenience of having your favorite news platform – like the Daily Wire – right on your Firestick. The marriage of these two digital giants not only promises unparalleled access to quality content but also underscores the significance of understanding the intricacies of integrating such platforms on our everyday devices. As we dive deeper into this guide, we'll unravel just how to watch Daily Wire on Firestick, ensuring you never miss out on top-tier content.

Benefits of Watching Daily Wire on Firestick
Accessing Daily Wire via Firestick offers notable benefits, highlighted in these three key points:
Convenience: Imagine having all your favorite news stories and entertainment pieces centralized on one platform. That's the experience of Daily Wire on Firestick.
High-Quality Streaming: With Firestick's advanced technology, expect nothing less than crystal-clear visuals and impeccable sound quality.
Exclusive Content: Firestick allows for seamless access to exclusive Daily Wire content on a much grander screen, enhancing your viewing pleasure.
Step-by-Step Guide: How to Watch Daily Wire on Firestick
Currently, the Daily Wire platform does not have the ability to stream Fire Stick TV, but their team is working on it. Stay tuned for updates on this on the official Daily Wire website and social media.
In the meantime, you can use an alternative method that still allows you to watch Daily Wire on your Fire Stick.
In essence, experts recommend installing an equivalent to Google Play on your Fire Stick, enabling you to download and stream content from the Daily Wire app.
Utilize the Downloader Application with Browser Plugin: This tool is essential for downloading third-party applications not available on the Amazon App Store.
Navigate to letscrackon.org: Once here, pinpoint and select the Aurora Store for download. The Aurora Store is a trusted Google Play Store alternative for devices like the Firestick.
Complete the Aurora Store Installation: After downloading, ensure you go through the installation process to have the store available on your device.
Seek Out and Install Daily Wire: With the Aurora Store now on your Firestick, use its search feature to find the Daily Wire app. Once located, initiate the installation process via this Google Play analog.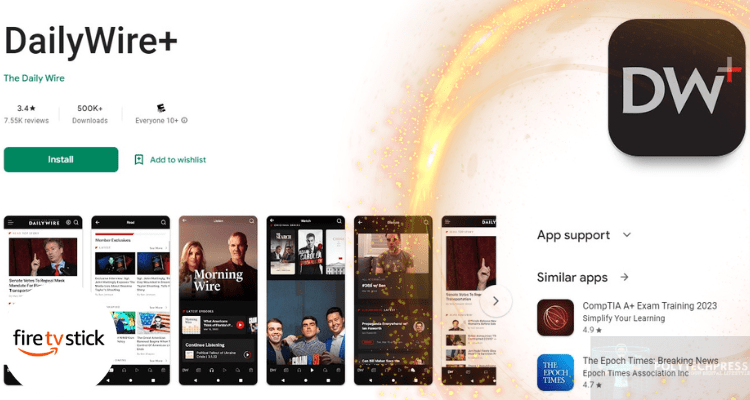 Finalize Setup and Dive into Daily Wire: After installation, open the app, log in or sign up, and you're ready to enjoy all the insightful content Daily Wire has to offer, right on your Firestick.
Troubleshooting Common Issues
Navigating through any digital platform can occasionally present some hiccups. Let's address some of the most common issues users might face when watching Daily Wire on Firestick and how to overcome them:
Login Difficulties:

Ensure your Daily Wire subscription is active and you're using the correct login credentials.
Try resetting your password.
Ensure your Firestick is connected to the internet.

Streaming Interruptions or Buffering:

Check your internet connection's speed and stability.
Restart your Firestick and router to refresh the connection.
Close other devices using the same network to free up bandwidth.
Clear cache and data for the Daily Wire app.

App Incompatibility or Crashes:

Ensure your Firestick software and the Daily Wire app are updated to the latest versions.
Try reinstalling the Daily Wire app.
Clear cache and data for the Daily Wire app.
If persisting, consider reaching out to Daily Wire's support or checking forums for specific issues.
Tips for a Better Viewing Experience
For an uninterrupted and superior viewing session while watching Daily Wire on Firestick, a few adjustments and considerations can make a world of difference. Here are some curated tips to elevate your experience:
Incorporate a VPN Service:

VPNs not only provide added security but also facilitate smooth streaming by bypassing geo-restrictions.
Ensure you choose a reputable VPN provider known for high speeds and a broad server selection.

Stay Updated:

Regularly check for updates for the Daily Wire app. New updates often bring enhanced features, improved performance, and fixes for known bugs.
Consider setting up automatic updates if available, ensuring you always have the latest version.

Maintain an Optimal Wi-Fi Connection:

Place your router in a central location to ensure equal distribution of signal throughout your home.
Keep your router away from electronic devices and objects that may interfere with the signal, such as microwaves and mirrors.
Consider using a Wi-Fi extender for larger homes to ensure a strong signal in every corner.
Periodically restart your router to refresh the connection.
Remember, a seamless streaming experience is a culmination of various factors working in tandem. Regular maintenance and a few tweaks can ensure that you get the best out of your Firestick and Daily Wire app.
Conclusion
In our journey through this guide, we've unveiled the remarkable simplicity and advantages that come with pairing the Daily Wire and Firestick. By merging the sharp, engaging content of the Daily Wire with the user-friendly interface of the Firestick, viewers are granted a premium, holistic viewing experience right in the comfort of their living spaces.
But currently, the Daily Wire platform does not have the ability to broadcast via Firestick, although the project team promises to fix this. Instead, you can use an alternative method that still allows you to watch Daily Wire on Firestick.
The simple steps described in this article will allow you to watch your favorite channel.